Dear friends and clients,
First, a word of thanks to all of our great clients and their referrals to us through the years. We are extremely blessed to be in a business that did not completely shut down, and we have continued to help clients with the real estate opportunities through COVID-19.
As expected, we have seen an incredible increase is sales activity in the past 4-6 weeks. Between pent-up demand from shelter-in-place to all-time historic low interest rates, buyers are ready to buy. 24-month trends show sales and listing activity on a downward trend, so what is going on?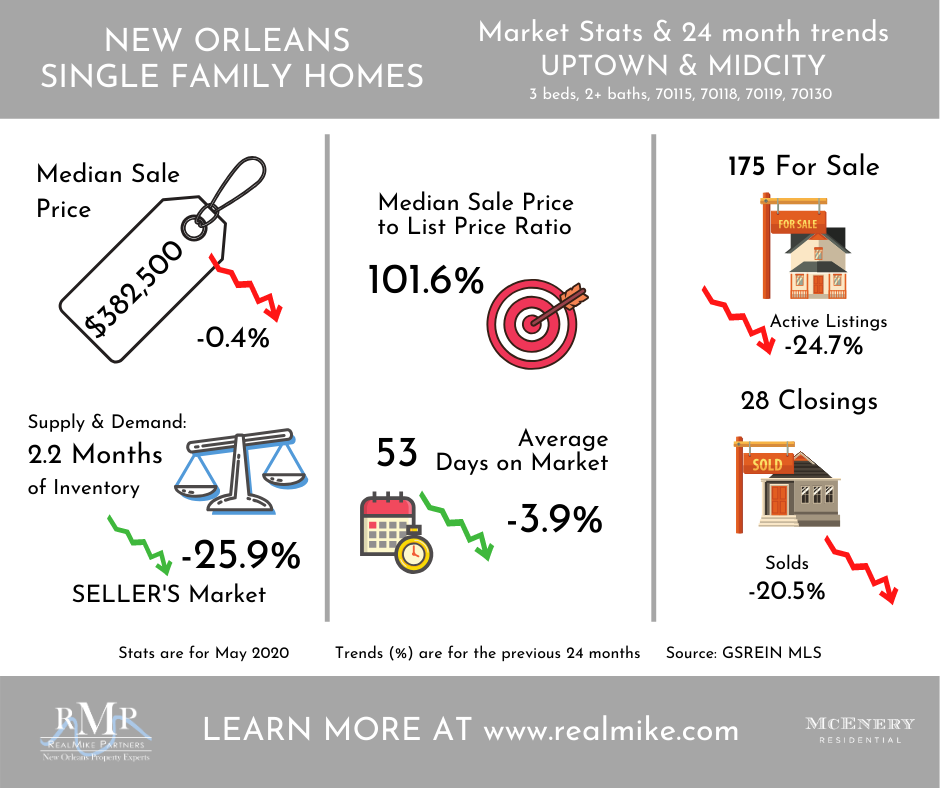 3 bed, 2+ bath homes in Uptown and Mid City (zips 70115,70118,70119 & 70130)
– We are back to strong Seller's market with 2.2 months of inventory. Month's supply has declined almost 26% in the past two years. In that time we have never been in a true Buyer's market for more than a month, if that.
– inventory continues its decline: number of homes coming on the market has declined about 25%
– Closings have also decreased over 20%
– With inventory declining faster than closings, the seller's market has become stronger.
– We don't typically track numbers of pending sales, but in May the number of sellers accepting offers doubled vs April. This is why the best agents seem to be extremely busy, even if longer-term trends are slower.
– Mortgage rates now provide buyers with about 17% more purchasing power than they had just 18 months ago. While prices are essential flat over 24 months, we expect the low interest rates to transfer into price increases in the future.
– Thus, we are again seeing many multiple offer situations: Most every one of our buyers is winning multiple offers and most of our sellers are receiving multiple offers.
Conclusion: We are experiencing a strong spring real estate season; it is just a couple of months behind. Lack of inventory and low interest rates are keeping buyers in the market.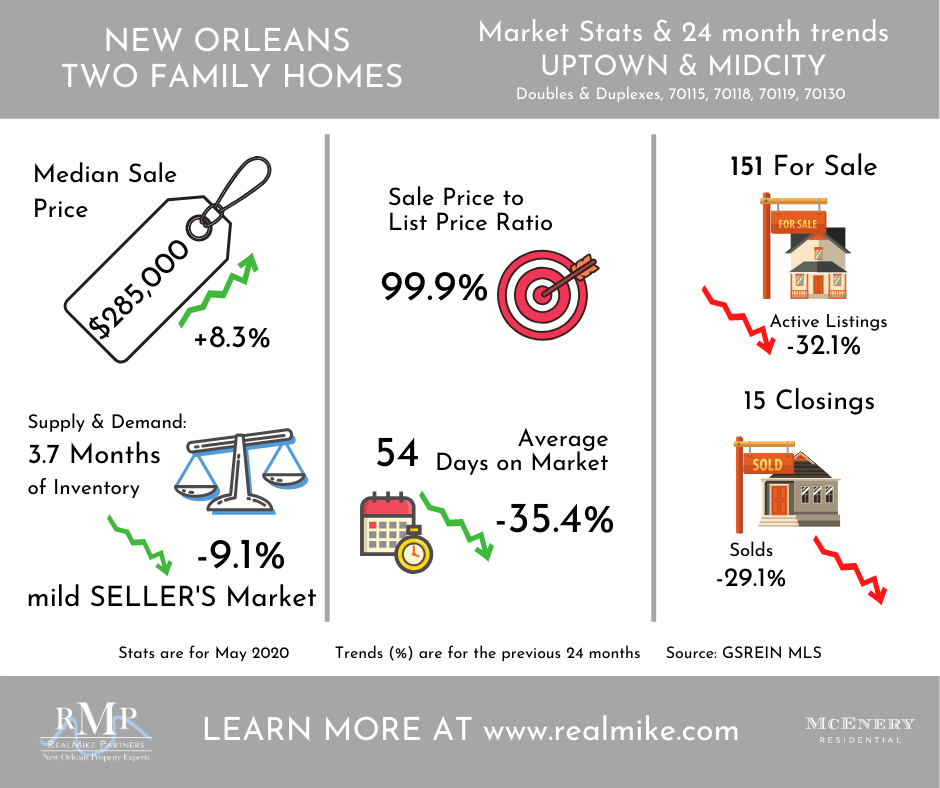 In the market for doubles, activity is a bit slower with about 3.7 months of inventory, a seller's market that is trending down by 9.7% over 2 years.
– While prices for closed sales in May were down, the 24-month trend is up 8.3%!
– Median Sale prices are almost 100% of the list prices for move-in condition doubles
Doubles remain an irrational value, they sell for less per square foot than singles (in similar condition and location) and with the income from renting the other unit, they are the most affordable housing in Historic New Orleans. Our prices are higher than surrounding areas, so doubles remain extremely popular for modest income and first-time home buyers.
Economy:
Keep in mind that our current economic problems are self-inflicted. This is a temporary condition. We have been ordered to and have chosen to comply with this shutdown. The Great Recession was caused by a fundamental problem in our economy: home values got way ahead of our ability to pay the mortgages, Wall Street and the banks lied about the quality of the mortgage assets they were peddling, speculative derivatives amplified the problems and the system collapsed. After Katrina, our housing stock and job market took major hits that were not quick to restore. Once we learn how to get back to work, and people are earning and spending money, the economy will likely recover more quickly than some of our other disasters. This is a self-inflicted and temporary economic decline.
We just learned that applications for mortgage forbearance have now declined for the third week in a row. Barring additional major lockdowns in the near future, our economy is on the mend!
The boom(let) is here
After the Great Recession, the federal government offered a first-time-homebuyer credit to get the real estate market going. Because this was a temporary limited-time opportunity, it caused some buyers to purchase sooner than they planned. We literally pulled buyers out of the future into the present. After the program was over, we then saw a decline in first-time home buyers. Fortunately, the program worked, the economy was recovering, and we were much better positioned to handle that decline in buyers.
The opposite occurred this year: COVID-19 hit right as our spring buying season was ready to heat up. As prices remained stable and mortgage rates were low (see below) we were expecting a booming spring market. These buyers and sellers simply got pushed to the future and have now come off the sidelines.
Here is a graph of showing requests through the MLS system, this is a rolling weekly average of the number of requests to show properties that agents make through the online MLS system. Interestingly you can see when Mardi Gras was (dips in late February / early march) and the big decline in 2020 for shelter-in-place. We are now practically back to the same activity as last year!
Affordability: Home prices are flat and money is cheap
Prices for the 3 bedroom, 2+ bath single family homes in the Uptown and Mid-City markets are up about 3% over the past two years. Sellers can take heart that we are not seeing declines. With mortgage rates so low, this mild price increase is more than overcome by monthly rates being so low.
In the meantime, mortgage rates declined about 1.1% in the past 2 years. 30-year fixed mortgage rates peaked in the high 4% range about 18 months ago, and are now down below 3.5%. Since a 1% change in mortgage rates translates to a 10% change in buyers purchasing power, buyers now have about 15% more purchasing power than 18 months ago and at least 10% more purchasing power today than they did 2 years ago. This more than offsets the mild price increases we have experienced! Buyers can either get the house they wanted for and effective 10-15% discount, or move their budget up 10-15% and still have the same monthly payment as two years ago.
This is great news for sellers, too. We have not seen price declines, and the best houses are getting multiple offers. (See above) Those lower rates mean you have a bigger pool of buyers that can afford your house. There are more buyers that can afford your house today than 18-24 months ago.
Not looking to buy? This change in mortgage rates has driven a boom in refinances. If you have been in your home more than few years, now is the time to consider refinancing. If you are presently paying mortgage insurance and your value has increased, you may get a two-fer – eliminating mortgage insurance and cutting your interest rate.
Should sellers list now?
In short, yes. Inventory is declining, so you have less competition.
We get similar questions in the late fall and early winter each year: should sellers wait until after the holidays or even after Mardi Gras? There are definitely more buyers after the holidays, but also more competition from other sellers who also waited for the holidays to end. I always urge sellers to consider that buyers looking during the Holidays are usually VERY serious, and if they are not on the market, those sellers will miss those serious buyers.
Obviously, safety issues need to be carefully considered, and allowing buyers into some families' homes may be all but impossible now. Sellers who can allow showings can find those serious buyers who are looking right now.
For those sellers who do want or need to sell should start getting ready to sell if they haven't already done so. Open houses are starting again, and that pent-up demand from the spring is arriving now. Consider having your house pre-inspected, take care of deferred maintenance or other inspection surprises, get staging bids and get the photos taken.
Conclusion
These are of course uncertain times, but we have many reasons to be hopeful about our real estate market. Low interest rates can compensate for overall economic decline, which will help buyers and sellers. Inventory is still declining, and buyers are back.
If you or anyone you know has more questions about today's real estate market, we are here, working and ready to answer any questions or concerns that you may have!