Dear friends and clients,

In our last newsletter we discussed how the real estate business is continuing operations as we shelter in place.

Many have wondered what this means for sales activity and values in the coming months. Overall I am very encouraged by the opportunities for buyers and sellers in the next few months and feel that the market will do just fine. Of course there is no crystal ball, but here are a few observations on our current market and economy, including some lessons learned from the Great Recession and Katrina tragedies that had perhaps a worse effect on our local housing market.
Economy: How can the real estate market be OK when the economy will be in the tank for who knows how long?
Keep in mind that our current economic problems are self-inflicted. This is a temporary condition. We have been ordered to, and have chosen to comply with this shutdown. The Great Recession was caused by a fundamental problem in our economy: home values got way ahead of our ability to pay the mortgages, Wall Street and the banks lied about the quality of the mortgage assets they were peddling, speculative derivatives amplified the problems and the system collapsed. After Katrina, our housing stock and job market took major hits that were not quick to restore. Once we learn how to get back to work, and people are earning and spending money, the economy will likely recover more quickly than some of our other disasters. This is a self-inflicted and temporary economic decline.
The coming boom
After the Great Recession, the federal government offered a first-time-homebuyer credit to get the real estate market going. Because this was a temporary limited-time opportunity, it caused some buyers to purchase sooner than they planned. We literally pulled buyers out of the future into the present. After the program was over, we then saw a decline in first-time home buyers. Fortunately the program worked, the economy was recovering and we were much better positioned to handle that decline in buyers.

COVID-19 hit right as our spring buying season was ready to heat up. As prices remained stable and mortgage rates were low (see below) we were expecting a booming spring market. Many of these buyers and sellers are now on the sidelines because of social distancing issues and general economic uncertainty. Unoccupied homes are less problematic to view, and a boom of virtual tour technology is occurring. Once the shelter-in-place orders are lifted and people are more comfortable viewing homes in person, we expect a mini-boom. The spring 2020 buyers and sellers are being moved to the future. And just like the first-time homebuyer credits, we should expect a decline after the boom slows down.
Affordability: Home prices are flat and money is cheap
We look at 3 bedroom, 2+ bath single family homes in the Uptown and Mid-City markets each month. In the two years ending in March, prices are basically flat: around $425K in the past few months, same as two years ago. Median price for our overall Metro market was $222K in Q4 2019, right in line with other Southern and Midwestern metro areas. This was an 8.2% increase over 12 months.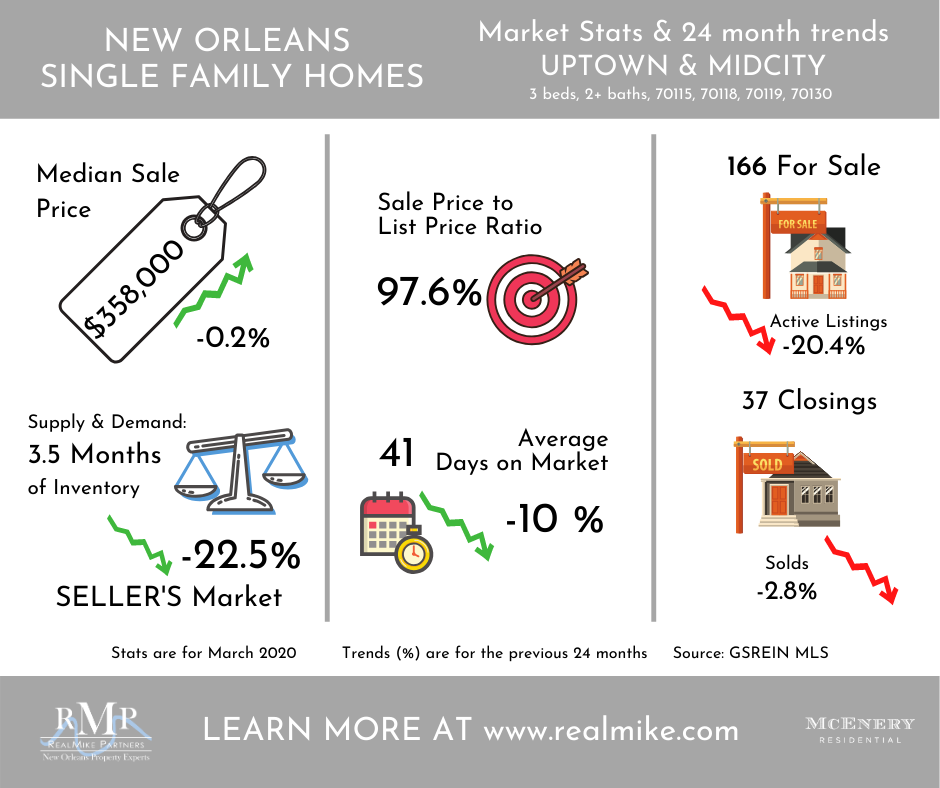 In the meantime, mortgage rates declined about 1.1% in the past 2 years. 30-year fixed mortgage rates peaked in the high 4% range about 18 months ago, and are now down below 3.5%. Since a 1% change in mortgage rates translates to a 10% change in buyers purchasing power, buyers now have about 15% more purchasing power than 18 months ago and at least 10% more purchasing power today than they did 2 years ago. Buyers can either get the house they wanted for and effective 10-15% discount, or move their budget up 10-15% and still have the same monthly payment as two years ago.
Freddie Mac, 30-Year Fixed Rate Mortgage Average in the United States [MORTGAGE30US], retrieved from FRED, Federal Reserve Bank of St. Louis; https://fred.stlouisfed.org/series/MORTGAGE30US, April 9, 2020
This is great news for sellers, too. We have not seen price declines, and the best houses are getting multiple offers. (Some of our clients viewed a house last week that got an offer within 3 days of listing! We won a multiple offer competition for another buyer over the weekend). Those lower rates mean you have a bigger pool of buyers that can afford your house. There are more buyers that can afford your house today than 18-24 months ago.

Not looking to buy? This change in mortgage rates has driven a boom in refinances. If you have been in your home more than few years, now is the time to consider refinancing. If you are presently paying mortgage insurance and your value has increased, you may get a two-fer – eliminating mortgage insurance and cutting your interest rate.
What's going on right now?
Last week 6 homes pended, i.e. received acceptable offers and we typically pend 30-35 per month (3beds, 2+ bath singles, Uptown and Mid-City). This represents 20%-25% decline in activity, and as explained above, this should result in pent-up demand and a mini-boom once shelter-in-place restrictions are lifted. Uptown, most of houses that received offer were listed between $500K-$700K.
In the past two years, median prices have remained have remained flat, around $425K. We have seen some months where that price has hovered closer to $500K. With just around 30 sales per month, this is a relatively small 'sample' size. Nonetheless, prices are clearly not on a dramatic upward trend at all.
In the condo market, we've seen about a 15% decline in median price, with a similar increase in the past 6-7 months. We are in a mild buyer's market with a bit over 7 months of inventory. In new construction condos in the warehouse district and CBD, we have about 3 years of inventory, a very strong buyer's market. Many of these buildings are super-luxury with prices way higher than resale units. That market remains a mystery to me, and admittedly I don't understand how the developers have obtained financing to build so many new units. The best units (great views, balconies, extra parking, etc.) sell quickly, and the 40-60% of the 'regular' units in the building languish on the market. In some projects like the Standard, the developers chose to lease many unsold units to generate income instead of sitting on unsold inventory.
Buyers seeking the lifestyle of a condominium living have very good selection at reasonable prices for the foreseeable future.

Should sellers list now?
This is a question we get every year from sellers, not just during the pandemic. For example, sellers who are ready to sell in late fall wonder if they should wait until after the holidays or even after Mardi Gras. There are definitely more buyers after the holidays, but also more competition from other sellers who also waited for the holidays to end. I always urge sellers to consider that buyers looking during the Holidays are usually VERY serious, and if they are not on the market, those sellers will miss those serious buyers.

Obviously, safety issues need to be carefully considered, and allowing buyers into some familys' homes may be all but impossible now. Sellers who can allow showings can find those serious buyers who are looking right now.

For those sellers who do want or need to sell and need to wait a few weeks or months, start getting your house ready to sell now. Consider having your house pre-inspected, take care of deferred maintenance or other inspection surprises, get staging bids and get the photos taken. You will then be ready to go on the market immediately after the boomlet starts.
So what happens if the market turns down?
Again no one knows what really is going to happen. Tourism – which supports our very rich food, music and entertainment businesses – is a bigger part of our local economy than other parts of the world. If we find in late summer or fall that many folks still need to remain sheltered in place, and tourists are reluctant to travel, we could see a shift to a buyer's market.
We have experienced this with previous crises, so we need to remain cautious and also look for opportunities.

A buyer's market is an excellent market to upsize your home. If prices decline, your existing home will be worth less. Buyers seeking large houses, or more expensive neighborhoods will get a similar discount on their purchase. A 10% reduction on the $400,000 home they sell will be more than overcome by the 10% discount on the $600,000 home they buy.
The Power of Home and the Flight to Quality: two trends from past crises that could play out again
When the levees broke after Katrina, low-lying neighborhoods were decimated. It seemed logical that everyone from, say Lakeview, would be moving to high-ground areas like the Irish Channel and Pigeon Town, where they would renovate un-flooded houses. Those people didn't want to move, they wanted to go right back to their old neighborhoods. The Power of Home was irresistible, and in fact Lakeview had one of the biggest booms in our local market in the few years after Katrina.

Neighborhoods that were just starting to gentrify, like parts of the Irish Channel, Central City and Carrollton seemed to take a step back. As prices declined, buyers found they no longer need to be urban pioneers to find good values. This resulted in a Flight to Quality: Uptown neighborhoods saw more activity and smaller price declines than some other up-and-coming areas.

Regardless, both trends represent opportunities for buyers: discounts on their favorite neighborhoods and opportunities to move to traditionally more expensive neighborhoods.
Conclusion
These are of course uncertain times, but we have many reasons to be hopeful about our real estate market. Low interest rates can compensate for overall economic decline, which will help buyers and sellers. We are still seeing buying activity – even multiple offers – on great properties in solid neighborhoods. The decline / pause in activity gives sellers a chance to prepare to go on the market, or even take advantage of the fact that today's buyers are very serious.

If you or anyone you know has more questions about today's real estate market, we are here, working and ready to answer any questions or concerns that you may have!