February 2020 Market Update: Uptown and Mid-City neighborhoods
Biggest news in our local real estate market is not-so-new to most market watchers: Interest rates remain low! Rates fell about 1% in the past 12 months (despite an uptick in the summer and fall) making homes more affordable for buyers.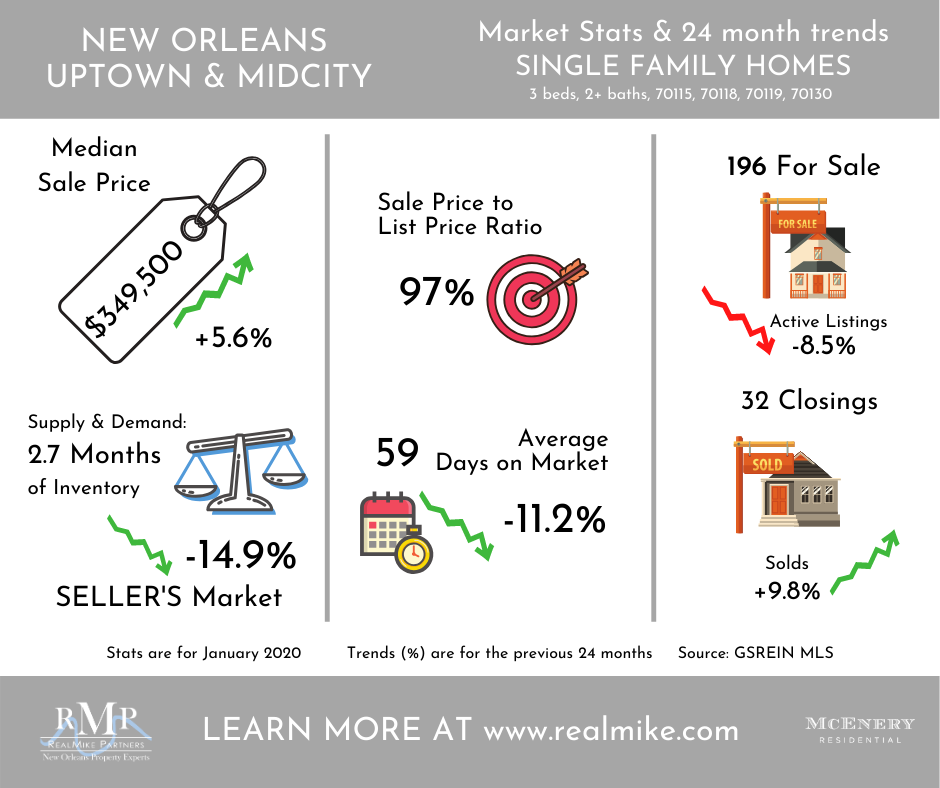 Single family market: 3 bed, 2 + baths in 70115,70118, 70119 & 70130
We regularly evaluate the 3-Bed, 2 bath single family market as a bellwether for our entire residential real estate market. Our latest snapshot shows the Uptown & Mid-city residential markets doing well, back to a Seller's market. A year ago, we were in a balanced- to buyer's-market. That additional 1% drop in rates has definitely been a factor in the shift back to a Seller's market.
In January we had 2.7 months of inventory, a definite Seller's market. Median price for closings was in the mid-300's, somewhat of an anomaly. Median list price was $482,000 for houses that were pending (not closed yet) at the end of January, so our median sold price will likely be back to the mid- to high-$400's next month!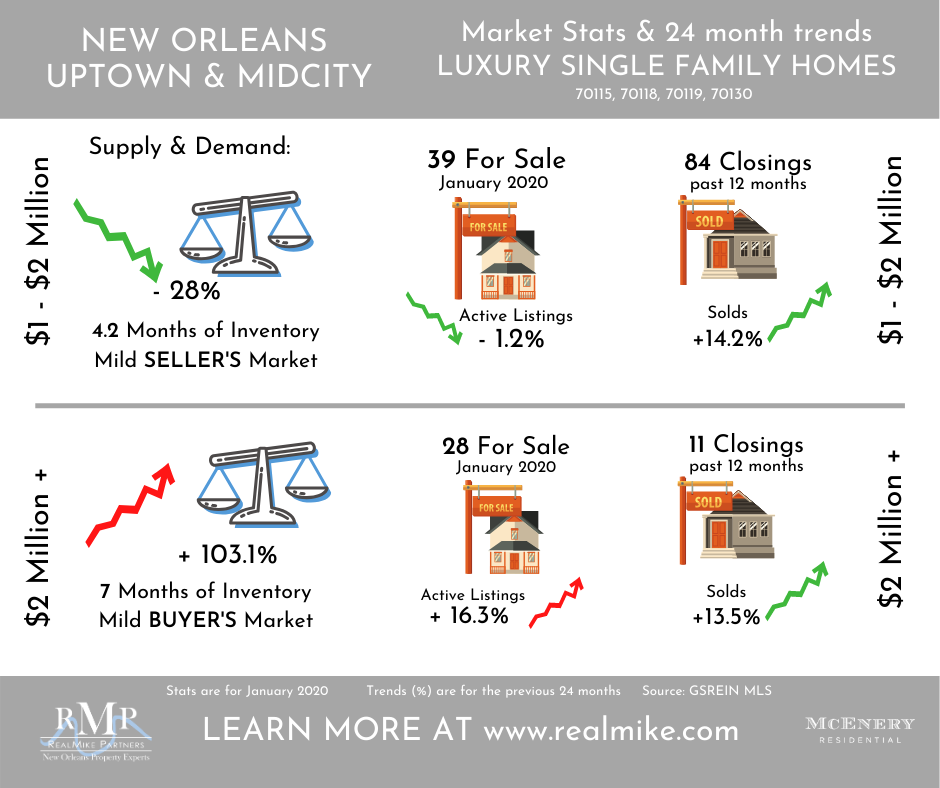 Luxury market: single family homes priced over $1 million
Luxury homes continue to move slower than the 3 bed / 2 bath market. Last fall we saw significant increase in activity in the $1-$2 million range.
In the past 2 years, we've seen a 28% decline in month's supply of inventory. In January we had about 4 months of inventory, a mild seller's market. In the $2 million+ market, January looked good at 7 months of inventory. In the past 24 months, the trend has been an over 100% increase in month's supply. To be sure, the $2 Million + market is small, so the specific home location, condition and amenities obviously affect value more than overall market trends.
Next Month: we will look at the multi-family markets, where we continue to see multiple offers on many homes.
Overview of the market:
We have continued to enjoy a strong economy in the past few years. New Orleans and our region continue to receive accolades from national and international publications – not just as a great place for tourists, but a great place to get a job and do business. We are ranked:
#4 Most Entrepreneurial Metro in USA [

Cloud Kitchen]

#1 State for Software Engineers [

Computer Science Online

]
#7 in USA for Tech Growth Greater New Orleans, #3 for women and #5 for African Americans holding tech jobs [

EMSI]

NOLA Top 10 "Best U.S. Place to Live Car-Free"

[Citylab]
We still experience multiple offers on the best homes, but unlike 2013-16, sellers can't expect multiple offers on almost any home. Accurate pricing, professional marketing and excellent condition are still crucial to receiving a good offer – that closes.
Details:
We have found through the years that the specific details of each property have more effect on the value and selling prices than 'stats' like median price of the market or especially, the frequently-misleading price-per-foot price per foot. (What's in the square footage, and where it is – location – have more to do with the value of property than a zip-code based price-per-foot.)
Trends, though, can help inform our pricing strategy and suggest how long it might take to sell property. Here are the trends we have found helpful, along with detailed graphs, below.
Median price: If we adjust for similar zip codes, beds and baths, we can notice meaningful trends and understand the median and average values. Median price (half sell for more and half sell for less) can be more meaningful than averages. Averages can be skewed by very high- or low-priced sales. Again, the trends, that is change in median price over time, are more meaningful than a median price in a given month.
Month supply of inventory (sometimes called absorption): this is a measure of supply and demand. If buyers keep buying at the same rate they have done in the past, how long will it take all of the homes on the market to sell (be absorbed by the market).
5-7 months is considered to be a balanced market.

Less than 5 months, a seller's market

More than 7 month, a buyer's market.
In the 21st century, in Historic New Orleans neighborhoods, 4-5 months of inventory feels like a balanced market. Once the market heats up to 2-4 months of inventory, prices escalate, multiple offers become more common and buyers can frankly feel discouraged.
Sale Price to List Price ratio shows us the typical discount a home sells at vs the asking price. This helps buyers understand what to offer on a home, and helps sellers understand price adjustments they need if they are not getting offers. We track the sp:lp ratio for homes that did not need to make price adjustments to attract a buyer. The Sale price to original price is also very helpful as it illustrates why it is important to go ahead and price property correctly at the start.
Average Days on market: this shows us how long we can expect to get an acceptable offer. We also show our sellers the median days on market. Median days on market means half of the houses sell faster and half sell slower. In the best neighborhoods we typically see median days on market under 2-3 weeks, whereas the average days on market can be 6-8 weeks. Buyers make offers quickly on the best valued homes.
Homes for Sale and Homes Closed: this is a reality check on the size of the market. In New Orleans, we have such a variety of housing types in close proximity: singles, doubles, luxury and condos are all in the same neighborhood. We track 3 bed / 2 bath singles as a bellwether for the overall market. With just 30-0 closing a month in the Uptown and Mid City neighborhoods, this is clearly a small portion of our overall market.
Conclusion:
Stats, especially the trends or changes in stats, can help us understand the market. They don't really tell us what a particular home is worth, but they do inform the strategy our clients should use when selling and buying houses. Please contact us to learn more about the strategies you should use when buying or selling in New Orleans.
Our business remains strong, no doubt because of our loyal clients and your referrals! If you know of anyone looking to buy, sell, or invest in real estate, please call and let us know. We would be honored to help them (and invite you to our exclusive VIP Elite community)!